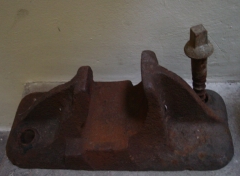 Micro project Hoe
---
Gallery
---
Foreword
Furniture
Why this project?
Shaping the landscape, picture 1
Shaping the landscape, picture 11
Shaping the landscape, picture 21
Shaping the landscape, picture 31
Shaping the landscape, picture 41
Shaping the landscape, picture 51
Page bottom
---
This is a very old project in Hoe, almost finished.
The goal was to set up a mine railroad on a very tiny surface.
---




Metallic wire

Coating plaster



Paint

One 76 centimeters long H0e flexible piece of track and a tiny straight H0 one.

Some copper leaf

Trees and bushes
Let say, all inclusive, less than 130 Euros/80 Pounds/160 USD. (Approximated conversions!)
Other furniture:
A multimeter (for its basic functions)

A crossed screwdriver

A cable unsheathing pliers

A wire cutter

a soldering iron (JBC, 25W)

Some soldering wire and flux

a hammer, toilet paper,…

(not finished)
---
Why this project?
I wanted to realize a very small layout, without main error risks, technical or economical… I was still student at that time. I just wanted to limit myself to one piece of Hoe flexible track (76 cm). This turned out to be a mistake as it was slightly too small. However this mistake did not justify to give up the realization.
---
The construction, step by step: the landscape
---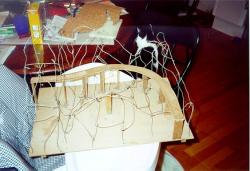 MicroP_Im_001.jpg
364.12 KB


Trust me or not! I do not have any picture of the early stages…. Just imagine a wooden plate with two pieces of wood to give rigidity to the structure. Vertical adjusted pieces cut in a wooden plate are positioned along the projection of the track shape. The platform of which has been cut in a 4mm thick piece of wood. Everything was glued. Fifteen years later I still like this shape -- a good sign! -- but the shape shell still needs to be realized. The easiest was to keep the metallic net before covering it with an oranges one! Such a net is interesting, not only because it is cheap and robust but also… some drawbacks. One of those is that the final shape has to be decided…
---
at a very early stage (there's not much of freedom to change anything afterwards), another one is the requirement to maintain the structure from underneath the wooden plate, soldering each single point, and finally soldering each individual connection of the net, which generates an angle, itself noticeable on the final surface. The track is glued with wood glue on a cork platform itself shaped against to, and, glued on, the wooden platform. The right side has been reshaped to give enough space for the receiving train. Some wires have been added to reinforce the structure, reducing the angles.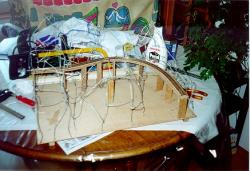 MicroP_Im_002.jpg
401.94 KB
---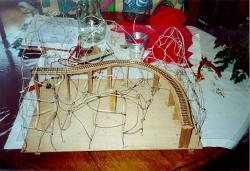 MicroP_Im_003.jpg
353.84 KB

On this view, one can immediately notice the general shape that allows for a small hill in the center, a background higher hills landscaping, From an electrical point of view… this is more than simple: only two cables are required. Some more wires have been again added to the metallic net. The pillar in the middle ensures the net stability which the net alone would not be able to achieve as it is only maintained from underneath the wooden plate.
---
The metallic net is covered by another one (potatoes or oranges net is what you need!). Here the net was bought in a textile shop from a left over. The advantage if a higher flexibility. It is maintained to follow the metallic shape. The HOe track is already in place and covered with an aluminum foil to avoid being spoiled by the plaster coming soon.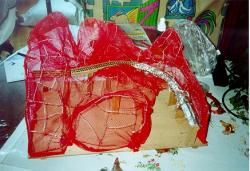 MicroP_Im_004.jpg
405.16 KB
---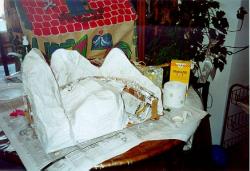 MicroP_Im_005.jpg
405.99 KB

Although everything looks like identical from left to right, three different techniques have been implemented. On the left side, the plaster was drop in a rather liquid form and turned out to be too heavy. In the center, white toilet paper is glue and covered with plaster. It is still too heavy… Finally, the toilet paper is glued with a mix of water, glue and plaster… very light and… resistant enough for our purpose!
---
The aluminum foil is removed. The shape of the landscape is OK. It has some bad aspects but also nice ones that we will discover later on.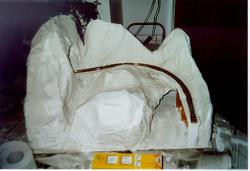 MicroP_Im_006.jpg
415.04 KB
---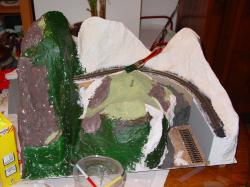 MicroP_Im_007.jpg
431.87 KB

The HO track is now here. The end of this area has been made out of cheese boxes, some kitchen paper, some glue and some plaster. Paint tests are conducted without success.
---
Natural light does not help. The H0e ballast -- roadbed for our US readers, one would need several dictionaries to sort that out! -- and the mine line buffer are in place.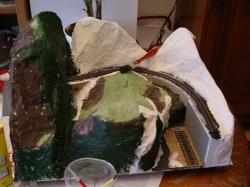 MicroP_Im_008.jpg
402.30 KB
---
---
Finally a very dark mix is retained. It fits quite well a deep pine wood forest. The mix is based upon professional oil colors without any addition of water or diluents.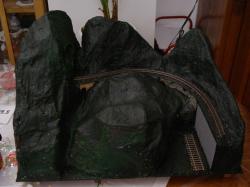 MicroP_Im_010.jpg
478.38 KB
---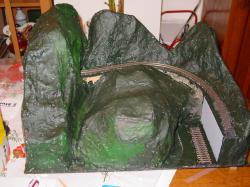 MicroP_Im_011.jpg
363.21 KB

Green pigments are to be seen well when using a flash. The mine tracks have seen their flank rusted using standard oil paint home made mix.
---
The main track is covered with plaster, a little bit too much maybe, which simulates the coating along many years of the production dust.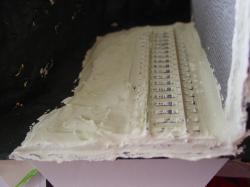 MicroP_Im_012.jpg
411.04 KB
---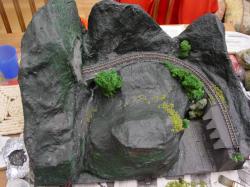 MicroP_Im_013.jpg
414.34 KB

First integral -- what a word for such a small layout! -- view. A little bit of green appeared. The hopper is home made out of a copper leaf.
---

The little bridge has been cut in place in cork, covered with plaster and paint… It would have been better, would I had cut it before gluing it there!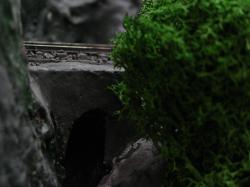 MicroP_Im_014.jpg
397.72 KB
---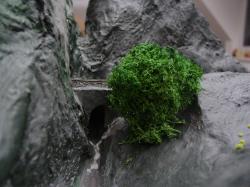 MicroP_Im_015.jpg
326.83 KB

From a little bit farther away. It will be possible to address the mistakes. The river is very deep so I do not need to generate water (I do not know yet how to do it) but only some humidity (paint).
---
The higher hill is now covered with flock to simulate a forest ground an the river is already occupied by a invading vegetation…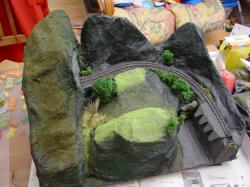 MicroP_Im_016.jpg
412.24 KB
---
---
When looking from a more remote position, one notices the better looking of the area. The tunnel entry has been cut in 4mm square section pine wood stem.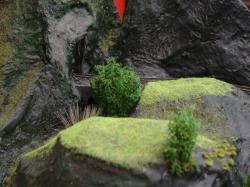 MicroP_Im_018.jpg
437.16 KB
---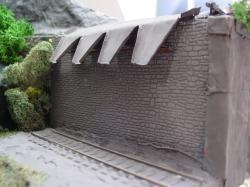 MicroP_Im_019.jpg
405.18 KB

Zoom on the wall and its hoper. The end of the wall ahs been covered with a thin layer of copper, simulating metallic sheets, which one can find by some florists. No better idea came to my mind!
---
Close-up on the hopper and two small Roco wagons. The hopper shape has been tuned so that if a Roco HOe truck load is emptied, the load falls automatically in the HO Kleinbahn wagon situated underneath. (tuning based on small pasta letters for soup!)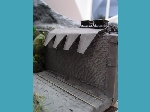 MicroP_Im_020.jpg
435.07 KB
---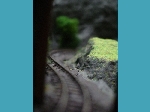 MicroP_Im_021.jpg
322.89 KB

This picture is lousy. However it shows something well made, the shape nearby the track, and a disaster, the grass which should have been pointing to the sky… (I used a kind of hammer but this was obviously not good enough!)
---
Making the wagon look older has been simply a matter of oil painting (for school!). The buffer is made of matches.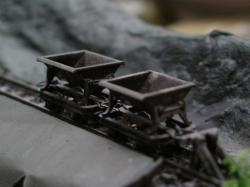 MicroP_Im_022.jpg
320.49 KB
---
---
Some more green has now been added to the landscape and the central humid area rearranged. It is still far from being OK but some progress are always good to feel.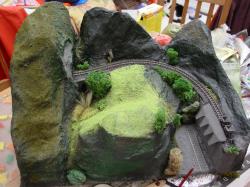 MicroP_Im_024.jpg
437.72 KB
---
---
---
---
---
---
---
---
---
---
---
---
---
---
---
---
---
---
---
---
---
---
---
---
---
---
---
---
Coming soon!

Coming soon!
---
---
---
---
---
---
---
---
---
Top of the page
Foreword
Furniture
Why this project?
Shaping the landscape, picture 1
Shaping the landscape, picture 11
Shaping the landscape, picture 21
Shaping the landscape, picture 31
Shaping the landscape, picture 41
Shaping the landscape, picture 51
Page bottom
---
Comments ? Questions ? Send me an email! Click here!
---
---